Kayas's Dance Across the Rio Grande BN RAE FDC MX MXJ MXF MFP RATI RATO T2B T2BP CGC TKN TDI (ASCA RN JS-N RS-N GS-N)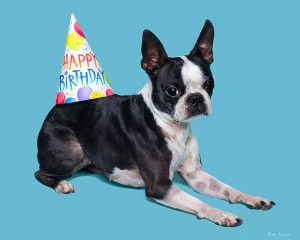 Rio is my first Boston and is a co-owner venture with Adrienne of Kayas Bostons.  She is the foundation of Riot along with her daughter Taylor and she is the best "first" boston ever.
Rio has been my rock and my "A" dog to learn many different things with.  She was the first dog I took in the conformation ring, my first agility dog, the mother to my first litter and she continues to be my most honest dog.  She will always tell me when I'm wrong and when I do what she thinks is "right" I get rewarded with her kisses…. she has been a great trainer and she continues to have me wrapped around her little paw!  Everyone who meets her LOVES her and she knows that she is adorable.  Rio has enough personality for 10 large dogs and she is the "boss" and "play police" at home.  She corrects younger dogs appropriately and is responsible for keeping the house in line while I am out.  Being my first Boston, Rio has flown on airplanes with me to CA and NV.  She has ridden many other states and is a great little travel buddy!  Rio retired from agility due to cataracts at the age of 12 but she still does tricks, passed farm dog this past year and she likes to do agility fun runs. We may try some scent work in 2021! She is a sweet snuggler at 13.75years and I hope we have more years ahead of us!