At Riot, I tend to breed infrequently because I take my litter planning and puppy raising very seriously. I also typically plan to keep a puppy from each litter. All dogs used for breeding have passed the tests recommended by the BTCA for luxating patellas, deafness (BAER), cataracts (CERF), DNA tests so we know they are not genetically displaying the gene for juvenile cataracts. We also do additional health testing on breeding stock as tests are available or if we have any concerns. I believe the dogs that are bred are considered by us to be wonderful representatives of the breed in health, structure, and spirit! I research the best combinations of traits and pedigrees when selecting a mate for one of my dogs. I choose dogs who many times I know personally or have had the ability to observe in person and examine.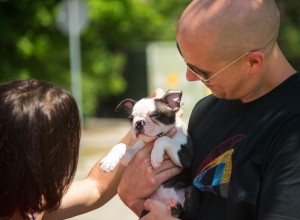 All of our dogs and puppies are registered with AKC. Before leaving us, our puppies will have a vet exam examination with fecal float, first shots (neopar at 6 weeks and distemper booster at 8), dewormings, and be microchipped. Puppies are BAER tested and have had a CERF exam to check their hearing and eyes. They are raised in the house, have been exposed to other dogs, many sights and sounds, children, and different surfaces as well as toys, wobble boards, inflatables, nail trimming, and baths. Most puppies have traveled in the ca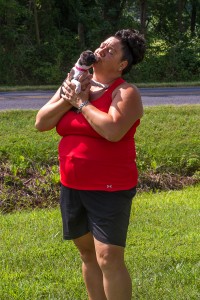 r and RV by 8 weeks of age and have had a chiropractic adjustment just for good measure. My goal is to send out puppies who have had many positive experiences to boost confidence and help make them cherished members of your family.
All performance and companion/pet puppies are sold on a spay/neuter contract and AKC Limited Registration which means they cannot be used for breeding. I place very few puppies as show/breeding prospects. 
I typically have a waiting list for litters as far as a year (or more) in advance. I do not always place puppies in an 'order' based upon time on the wait list based. I place them based on how well I believe a puppy will fit into a home based on the needs of the puppy and the desires of the home. My dogs love to train and work. I believe that dog sports and training build and strengthen the bond between human and canine. Current homes and performance homes are  given priority over companion-only homes. This doesn't mean that I don't place dogs into companion-only homes, but because I specifically breed to promote the breed standard, athleticism and versatility of the breed not all of my pups are suitable for companion-only homes and if two homes are both wonderful but one wants to do sports which helps to promote the versatility of the breed, then that home will be given priority. I believe that getting to know you is essential when it comes time to choose the right puppy for your family. While you may express your preference on gender, the final decision for puppy placement lies with me. Requests for markings/color will not be considered. If these are most important to you then you will need to work with a breeder who produces more puppies to increase your odds of getting exactly what you want. After 8-10 weeks with you puppy I know his/her personality and can assess where he or she might fit in best with a family. This does not mean your request for gender will not be honored but all final decisions on puppy placement is ultimately my responsibility to you and your puppy. If for any reason you cannot keep your puppy (your health, finances, relocation, life changes, etc) puppies are to be returned to me and not re-homed, given away, euthanized or sent to a shelter. I welcome the chance to talk with you and answer any questions you may have. Please use our contact form if you would like to reach us.

No puppy placement decisions are made until 7-9 weeks of age when health testing, temperament evaluations and structure evaluations are completed.
At this time we do not have any puppies available. Due to our long wait list we are not currently accepting any new applications at this time and expect that we will not open up applications again until sometime in late 2022.