RATCHX35 UCH Riot I Want Crazy RN FDC CA BCAT CGC RATI RATM CZ8P7S CW-ZR1 (AKC pointed)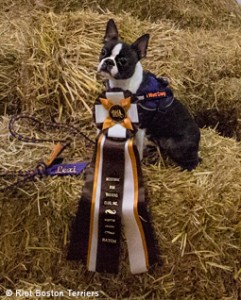 Lexi is our first girl that carries the Riot name. She is Taylor's daughter from her litter with Pothole (UKC CH/AKC GCH Katbird's Bless the Broken Road).
"Sexy Lexi" as she is known at home is spoiled rotten. She participates in conformation, Rally obedience, barn hunt and agility. Lexi is full of attitude and opinions. She likes to think she runs the house. She is amazingly athletic – climbing out of 4 foot ex-pens at 6-7weeks of age with no fear. Lexi loves her human mom 100%. She isn't sure that other humans are worthy of her affection when mom is around that is all she has eyes for. Lexi is about 11.5″ and 14pounds but she has enough presence to catch the attention of a room. She is small but mighty for sure and we love her.
On March 5, 2016, Lexi became the first Boston Terrier to earn the Barn Hunt Champion title. She was 4/4 that weekend with all first places and one High in Class. This girl is an amazing partner!
On May 29, 2016, Lexi became the first Boston to ever earn the Barn Hunt Champion Excellent (RATCHX) title.
Lexi continues to hunt the rats with skill that is so very special. On November 13, 2016 after a few moths off to attend nationals and rest while I raised pups, Lexi became the first Boston to  earn the Barn Hunt Champion Excellent 2 (RATCHX2) title. The sky is her limit and the barn is her playground. As of November 2020, Lexi is still the undisputed Boston in both RATCHX titles and Crazy 8's points.
Lexi's puppies are now training/competing in conformation, scent work, agility, barn hunt, disc and Fast CAT.